Weapon Management Systems
Cantine Armament's Weapon Management Systems provides power and control to the aircraft mounted weapon systems. The Weapons Management System provides the operator a means to manage weapons configurations, program a variety of mission requirements, monitor system performance, and ensure safe operation of all weapons systems. The Weapons Management System provides a modular design for up to four weapons stations and the capability to manage and deploy Hellfire missiles, Hydra 70 rockets, GAU-19 Gatling guns, and M-134 mini-guns. The system consists of the Weapons Management Display, Fire Control Computer, Stores Management Unit, Gun Interface Unit, System Control Panel, Weight-On-Ground / Jettison Panel, and Ethernet Switch Unit. All displays and lighted indicators are equipped with brightness and dimming capabilities in order to facilitate both day and night operation.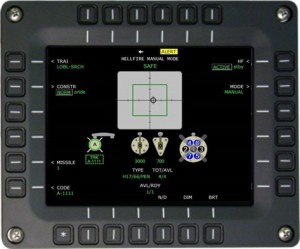 The Weapons Management Display Unit is a user friendly, high definition custom-configured four inch by five inch display pilot interface with soft key input. The display provides comprehensive weapon system controls, Hellfire BIT results, and weapons status with on screen functional labels. The display is NVIS B compatible with available brightness adjustment and provides independent weapons management display utilizing a small amount of cockpit space.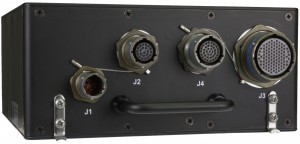 The Fire Control Computer provides the weapons user interface software and generates weapons management control, status, and graphics. It also provides the necessary control for the Stores Management Unit, and facilitates the Ethernet based communication with the Mission Systems for managing laser codes between the SS 260 HLD (FLIR) and the Weapons Management System.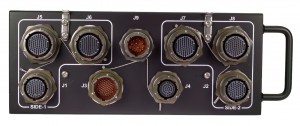 The Stores Management Unit is a self-contained controller configured to support rocket launchers, M-134 mini-guns, GAU-19 Gatling guns, and Hellfire missiles. The Stores Management Unit is designed to operate and control timing of high-power switching elements for gun motors and solenoids, rocket modes of firing, rocket fuse selections, laser designating codes, and selection of Hellfire missile position and setting of trajectory. The Stores Management Unit also contains an extensive Built- In-Test (BIT) system to determine abnormalities of gun, rocket, and missile system characteristics for safe and effective use.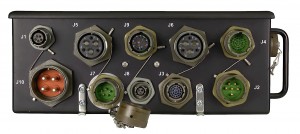 The Gun Interface Unit is a power distribution controller that controls gun functionality (motor and solenoids) and contains remote circuit breakers for power management of other FCC functions including jettison, laser sighting activation, gun boost motor capability, and last round switch. The Gun Interface Unit is equipped with back EMF suppression in switching all of the guns inductive loads including the gun motor, feed solenoid, safing solenoid and boost motor. Because the Gun Interface Unit provides power distribution, it is still required when guns are not present in the weapons configuration.

The System Control Panel manages weapons system activation and enables laser code entry. NVIS B compatible LED lighted indicators denote weapons system modes of operation and Stores Management Unit status. The System Control Panel provides the operator with reversion mode firing capability in the event of fire control system failure.

The Weight-On-Ground (WOG) / Jettison Panel provides the user with the option to override aircraft WOG switch and arm weapons systems as well as housing the covered jettison switch to activate the aircraft jettison feature. The "ARC210" pushbutton allows the operator to toggle between the ARC 1 and ARC 2 radios when manual control is required. NVIS B compatible LED lighted indicators denote function status.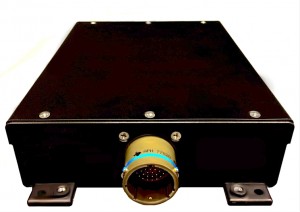 The Ethernet Switch Unit is a smart switch that provides capabilities needed to support high-bandwidth applications. It offers the basic security and Quality of Service (QoS) features to prioritize delay-sensitive traffic and is the communications channel for the Weapon Management Systems and Mission Systems.