Cantine Armament's Advanced Lightweight Weapons Platforms (ALWiP®) can be adapted to numerous types of aircraft. These platforms are available in a variety of materials and configurations for a number of aircraft and are designed to meet the specific requirements of our customers.
The lightweight modular system is designed to be quickly installed, removed or reconfigured to support rapid deployments and flexible mission profiles. The ALWiP® can be optionally configured with mission specific equipment designed for specialized operations. The Advanced Lightweight Weapons Platform is a reliable and combat tested system.
Bell 407 MRH Series I ALWiP®
The Series I ALWiP® has been in service with the United Arab Emirates (UAE) armed forces since 2014 and outfits their fleet of Bell 407 MRH aircraft. These aircraft were deployed in 2014 and continue to be a reliable combat proven assist today.
The ALWiP® we developed for the 407 MRH is a lightweight, metal-based platform designed for maximum payload with minimum weight impact on the aircraft. Specifically designed lightweight mounts were developed for their gun systems including the 7.62mm M-134 "mini-gun" and .50 caliber GAU-19A/B Gatling gun. These weapons mounts are strategically located at several inboard attachment points. Fourteen inch NATO-standard 1,000 pound class ejector racks provided at the outboard weapon stations allow for installation of many standard payloads such as rocket launchers and missile launchers.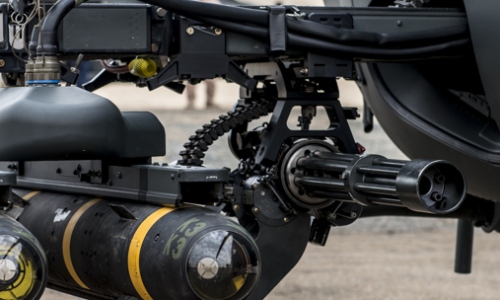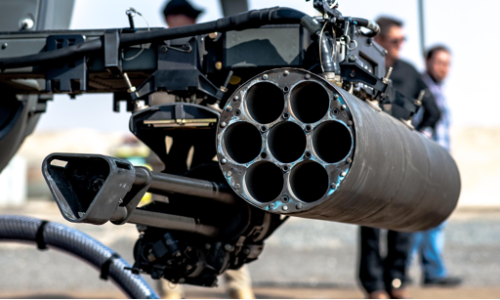 The Series II – ALWiP® can either be metal based or be constructed from high strength-to-weight ratio graphite/epoxy composite material which facilitates deliberate tailoring of stiffness properties. The composite based ALWiP® performs with the accuracy and dependability of the Series I ALWiP® with a greater reduction in weight. A unique, electrically conductive treatment for the composite material provides a ground path to the helicopter, safely dissipating static electricity. The Series II ALWiP® encompasses all Series I ALWiP® weapons mounting stations capabilities.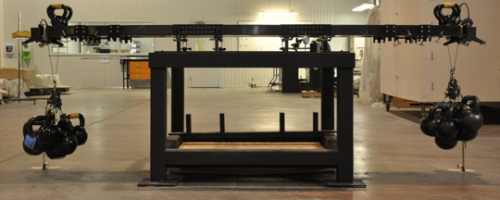 Both Series I and Series II ALWiP® are available in continuous and folding configurations to maximize operational efficiency for our customer's specific requirements. The continuous version is an interrupted platform designed for maximum strength and reliability. The folding version is a three piece platform with removable outboard stations to facilitate accelerated mission adaptability and flexibility. The outboard stations may optionally be replaced with customized mission equipment to fit mission profiles of many additional operations. CAI's standard cargo rail system is integrated into all platform inboard surface areas to provide versatile mounting options for ammunition magazines and mission equipment.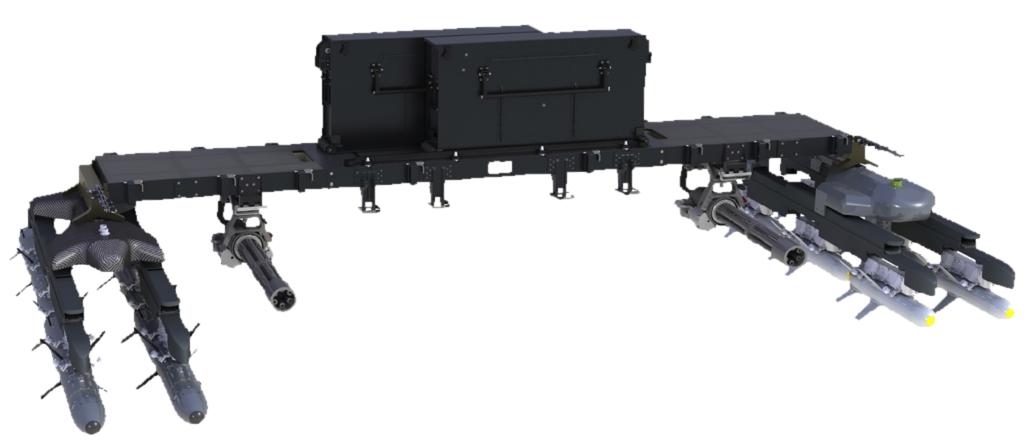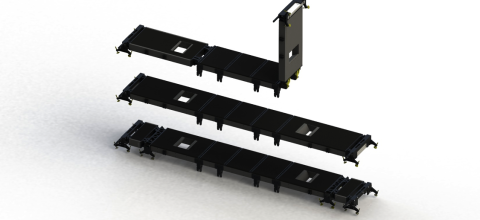 The floor system may be expanded to include the entire cabin area by use of the modular floor, creating a flat and unobstructed floor for utility or assault missions. The ALWiP® features an optional integrated external data/intercommunication system (ICS) port to facilitate ground crew communication with aircrew and interface with critical aircraft mission systems. Optional external fuel cells are available for long range mission facilitation. An optional tactical assault bench is available for the folding configuration for rapid deployment of operators for specialized mission.