Weapons and Mission Management Systems
CAI's Modular Weapons Management System can provide power and control for aircraft, vehicle mounted and maritime weapons platforms. Our combat proven Weapons Management System provides the operator a means to manage weapons configurations, program a variety of mission requirements, monitor system performance, and ensure safe operation of all weapons systems. CAI's approach to weapon and mission architecture is to offer a full suite of battle-proven computer and stores management hardware which can be fully configured for turnkey solutions or used to augment existing platforms.
Our components are designed to be customizable and scalable including the ability to mix and match CAI hardware with qualified Commercial-off-the-Shelf components as warranted. All of the components offered by CAI can be used in their standard configuration or further adapted to meet specific customer needs. This enables CAI to blend our proven fire control hardware technology with our client's platform and operator requirements for use across all airborne, ground and maritime-based applications.
All hardware is hardened and qualified to MIL-STD-810 and MIL-STD-461 for use in unforgiving environments.
Example System Architecture: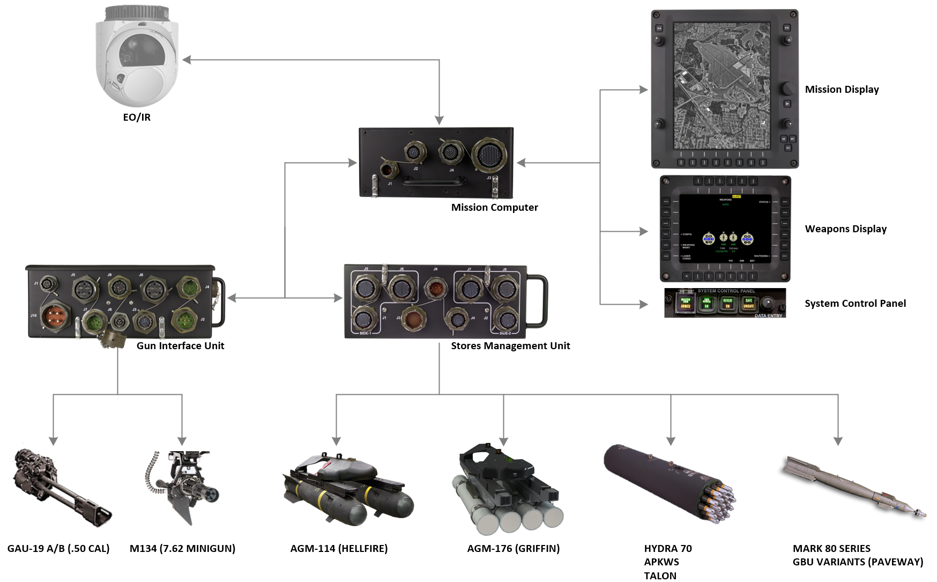 CAI Stores Management Unit (SMU)
Battle tested in combat and fielded worldwide since 2010

Stores Management of:

Hellfire missiles (all variants)

Griffin missiles (all variants)

Hydra 70 rockets including APKWS and TALON with fuze generation and discrete tube control

M134 Miniguns, GAU 19 A/B Gatling Guns, and Gun Pods

Bomb Release Units

Dual redundant 1553B, Serial and Discrete I/O Interfaces

Optical isolation, filtering and overvoltage protection

Extensive Built-In Test (BIT) capabilities
CAI Mission Computer (MC)
PC Specifications

Quad-Core 3.5 GHz Processor, 12MB cache, 16GB RAM

Supports PCI Express Plug-Ins

Integrated GPU

Configurable with up to 1TB Removable Storage

System Interfaces

Dual redundant 1553B with Bus Control

Serial, Ethernet, ARINC429 and Discrete I/O configured as required

SD/HD Video and DVI

USB2 and USB3 ports for peripheral interface

Compatible with multiple Mission Software suites including L3Harris Force X Widow

Ruggedized Case with Passive Cooling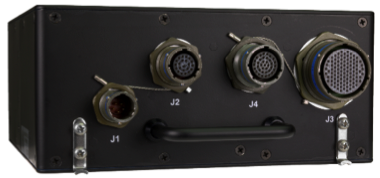 CAI Gun Interface Unit (GIU)
Gun System Power Control of:

7.62mm M134 Minigun

.50cal GAU-19A/B Gatling Gun

Gun Pods

Laser Pointer

Magazine Boost Motor and Last Round Switch

Stores Jettison Power

Optional 28VDC power distribution control for all weapon system components and breakers

CAI System Control Panel (SCP)
NVIS B Compatible

RS-232 and Discrete I/O

Example Configuration:

MASTER ARM

is a guarded switch providing dedicated control over the signal used to arm the weapons system

SMU POWER

is a switch used to power the weapons system on/off

REVERT

is a switch used to bypass the mission computer to force the SMU into a known state, enabling specific weapons control during an emergency situation

SAFE/UNSAFE

is an indicator signaling the results of BIT run during startup and continuous system monitoring

DATA ENTRY

is a concentric knob providing system input control and on-screen page navigation

Alternate and Customized Configurations are available

CAI WOG/Jettison Panel (WJP)
NVIS B Compatible

Discrete I/O

Example Configuration:

AIR/AUTO/GND

is a toggle switch for Weight On Gear override used for system maintenance and ground checks

AIR/GND

is an indicator signaling the state of the Weight on Gear and override switch

JETTISON

is a guarded switch used to initiate the Jettison of a store as selected by the Jettison Selection switch

ARC 1/ARC 2

is a switch used to select between ARC 210 Radio 1 and Radio 2

Alternate and Customized Configurations are available
4" x 5" Display

DVI HD Video

NVIS B Compatible with Night/Day and Brightness Adjustment

24 Customizable Soft Key Bezel Buttons 

RS-232 Interface for buttons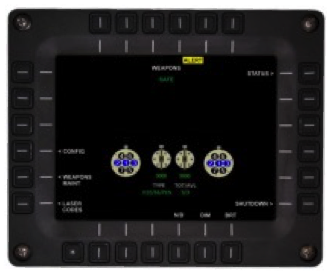 Support for multiple moving map platforms including Harris FliteScene®, L3 Harris ForceX Widow® and others

High performance, feature rich, digital moving map solution providing advanced situational awareness

I/O support for interface with various avionics including: radios, transponders, TACAN+, ESIS, Garmin G1000, etc. 

PFPS (FalconView®) compatible

EO/IR Sensor control and SD/HD video 

Mission Management Computer (MMC) 

Ethernet Switch (ESU) 

Mission Management Display Unit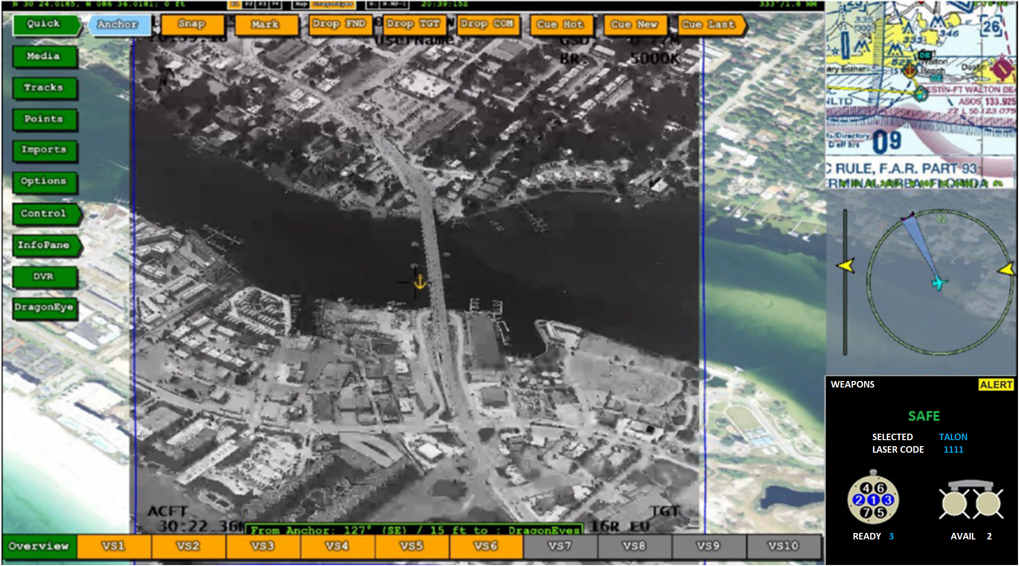 6" x 8" Display

DVI HD Video

NVIS B Compatible with Night/Day and Brightness Adjustment

14 Customizable Soft Key Bezel Buttons

4 Concentric Knobs for Menu Navigation

1 Joystick for on screen cursor control

RS-232 Serial Interface for buttons, dials and joystick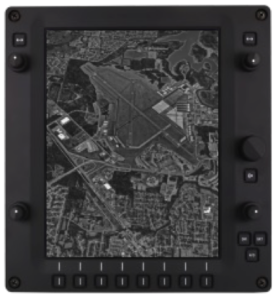 Ethernet Switch Unit (ESU)
Gigabit Ethernet switch

Provides expanded Ethernet support for additional integration options

Configurable for up to 8 ports at 10/100 or 4 ports at GigE

28VDC source voltage