Test Equipment and Electronics Accessories
Hellfire Test Set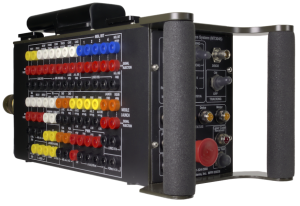 Customized for the unique capabilities of the Stores Management Unit and Lightweight Hellfire Launcher Interface, the stand alone CAI Hellfire Tester is capable of full simulation Hellfire I and Hellfire II missiles (AGM-114A-K, M, N, P, and R). Testing parameters include simulation of tracking and non-tracking modes, launch mode (LOAL or LOBL), missile type, and training or tactical missile type. The tester is powered via the launcher rail and includes a laser code interface supporting both PRF and PIM codes. Illuminated indicators provide laser code, power and squib status.
Rocket Test System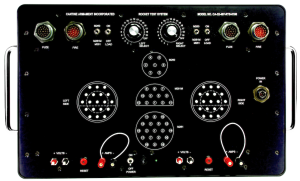 The CAI Rocket Test System is a ruggedized tester for evaluating the characteristics of HYDRA 70 (70mm) unguided rockets on a go/no go or parametric basis. Capable of testing M260 (7 tube), M261M (12 tube), and M261 (19 tube) launchers, the unit is equipped with LED's to indicate the position of rocket firing and a parametric mode for examining the parameters of squib firing pulses. Pulse width, duration and magnitude can be examined on each launcher tube to ensure that the firing mechanism contains the minimum necessary energy to properly ignite rocket squibs. When launching rockets in pairs, the synchronicity of firing pulses can be measured. The test system is capable of testing left side, right side, or both sides of the aircraft with either side defined as an M260, M261M, or M261 launcher. The test system comes complete with a rugged carrying case and a power cable.
Laser Sighting/Pointer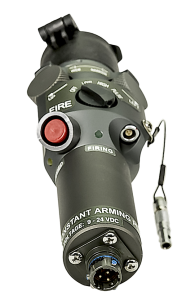 CAI offers a class 3B, infrared (830nm wavelength) laser for covert aiming and sighting. Bore sight adjustable when mounted to any of CAI's gun mounts, the laser features pinpoint accuracy at long ranges for precise air to ground engagements. With an effective range from 780m (illuminator) to 15km (pointer), the unit is waterproof and designed for extreme environmental conditions and weighs 8.2 oz. with dimensions of 6.3L x 1.7W x 1.8H inches. Batteries are not required as the laser is powered and triggered directly from the CAI Gun Interface Unit.
Robust Electronics Cabling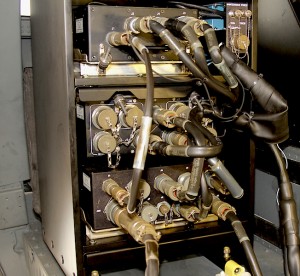 At the heart of CAI's fire control and mission integration is military grade, designed and manufactured cabling. Engineered for reliable performance, our cable systems include advanced materials and construction to ensure the highest performance in extreme environments. All cabling is electrically tested for continuity and 1500 VDC isolation.
Our Cables Feature:
Wide operating temperature range of -55 to 105 deg. C
Neoprene jacketing for maximum resistance to abrasion, chemicals, moisture, and fungus
High performance TPE insulation and materials
Robust shielding for EMI/RFI performance to comply with MIL-STD-461F
Finely stranded conductors for improved flexibility